Paradise Lost?
Help us protect beautiful Chiribiquete
As the world's forests continue to be destroyed by wildfires and deliberate mass deforestation, we need to save what's left, including globally important tropical rainforests like Chiribiquete.
This unique and ancient paradise has remained untouched for millions of years. Yet as a surge of land grabbing and illegal deforestation moves ever closer, Chiribiquete's future is under serious threat.
It's as though time has stood still in this extraordinary ancient landscape. Spectacular table-top mountains called 'tepuyes' – the oldest rock formations in South America – soar like islands above the lush, pristine rainforest that is mainly unexplored. The caves and walls of these giant, towering plateaus are adorned with fascinating indigenous rock paintings, some dating back 20,000 years.
£10

could help provide an Environmental Explorer

a pair of strong boots

essential for walking through the rainforest

£50

could support

Crucial Training Workshops

to enhance the monitoring skills of Environmental Explorers

£100

could help fund a year's

biodiversity monitoring programme

with indigenous people in the buffer zone
NATIONALLY AND GLOBALLY IMPORTANT
Chiribiquete's indigenous people and its wildlife are intrinsically linked to the landscape. For countless generations, communities have lived in harmony alongside thousands of wildlife species – including jaguars, spectacled bears, lowland tapirs, giant anteaters, woolly monkeys and the beautiful Chiribiquete emerald hummingbird, endemic to the area.
Chiribiquete is also key in fighting the climate crisis, regulating rainfall and temperature patterns and storing millions of tonnes of carbon in its tree canopy and soil.
UNDER THREAT
But, this vibrant, valuable and vitally important haven of life is under serious threat. Huge issues have arisen since the landmark 2016 peace agreement between the Colombian government and the Revolutionary Armed Forces of Colombia (FARC).
As FARC has moved out of parts of the buffer zone around the park, opportunists have moved in, heralding a surge of illegal logging, mining and cattle ranching. Around 563 sq km of rainforest have already been lost – the equivalent of over 84,000 football pitches – and new areas are being cleared at an unprecedented rate, increasing access to Chiribiquete itself.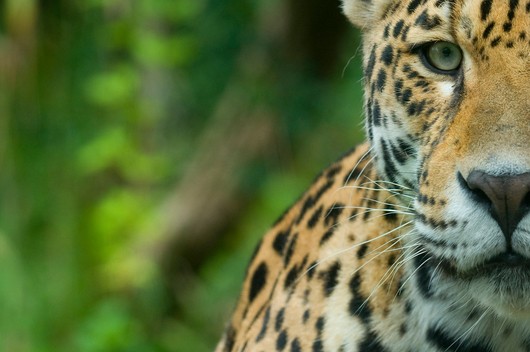 ENSURING PARADISE REMAINS – FROM CONFLICT TO CONSERVATION
This is a challenging situation with no quick or easy fix. Yet, its vital that we fight deforestation around Chiribiquete, or we risk losing this ancient, irreplaceable paradise and its rich web of life.
We're helping local action groups, called 'Environmental Explorers' who are passionate about protecting the rainforest and its riches.
£10

could help provide an Environmental Explorer

a pair of strong boots

essential for walking through the rainforest

£50

could support

Crucial Training Workshops

to enhance the monitoring skills of Environmental Explorers

£100

could help fund a year's

biodiversity monitoring programme

with indigenous people in the buffer zone