EXPLORE OUR AMAZING PLANET
Subscribe now to inspire and educate your children with the wonders of our natural world.
The perfect gift for planet-loving explorers
When you subscribe to Amazing Planet, you'll start your children on an incredible round-the-world adventure. Every month, they'll get an exciting delivery through the letterbox, full of facts, educational features and fun stuff about what makes Planet Earth so special. And with the Amazing Planet app (available on Android and iOS), they'll have the chance to bring it all to life – through the power of augmented reality!
Amazing Planet is ideal for children aged 7-11, but fun for the whole family to enjoy.
After you've received your welcome pack and all 12 themed packs, your monthly contribution to our work will continue. We'll keep you updated about how your support is helping when we can. We hope you'll keep supporting our mission to create a world where people and wildlife can thrive together. You can change or cancel at any time.
BEGIN YOUR ROUND-THE-WORLD ADVENTURE
STUCK FOR THINGS TO DO?
The Amazing Planet subscription comes packed with things to do from the moment your welcome pack arrives.
With an interactive world map, collectable animal cards, a gift, and an exclusive Amazing Planet pin badge for your young explorers to wear with pride!
YOU'LL GET A PACK EACH MONTH
Each month, get transported to a different part of the world focusing on a different area or habitat. Learn all about all the different habitats and species - from the Arctic to the Amazon, and everything in between.
You will receive 12 themed packs and one welcome pack over a 12-month period.
EXCITING INTERACTIVE APP
The Amazing Planet app adds an extra dimension to the learning and adventure.
Photos, videos and quizzes are updated monthly - perfect for both entertainment and education.
BRINGING YOUR HOME TO LIFE
Bring the wonder of the natural world into your home with the amazing augmented reality cards. Use the app to see the animals come to life before your eyes.
ALL WHILE HELPING PROTECT THE PLANET
Your Amazing Planet subscription helps protect the very habitats you're learning about.
The proceeds from your Amazing Planet subscription will help protect our world, wherever the need is greatest.
The proceeds from your Amazing Planet subscription will help protect our planet, wherever the need is greatest.
LAST MINUTE GIFT?
No problem! We'll send you a code so you can start using the app straight away.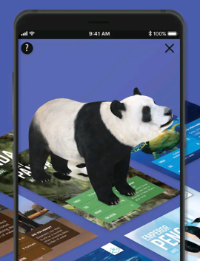 Free delivery
Your pack will be sent within 2-3 working days - but allow up to 5 working days for it to arrive.
Express delivery
In a rush? For £5.59 your pack will be delivered the very next day, if you order before 12pm, Monday to Friday.
Any other questions?
Take a look at our adoption FAQs